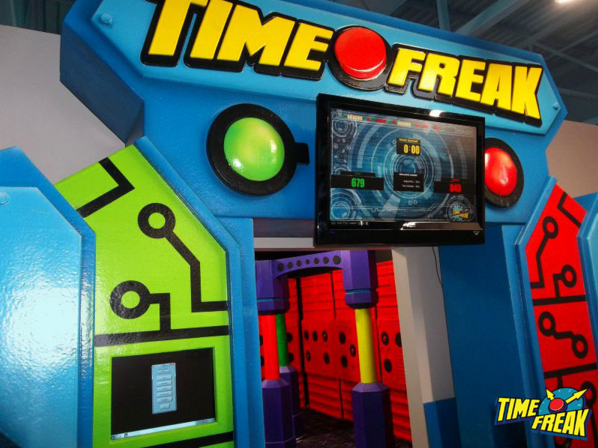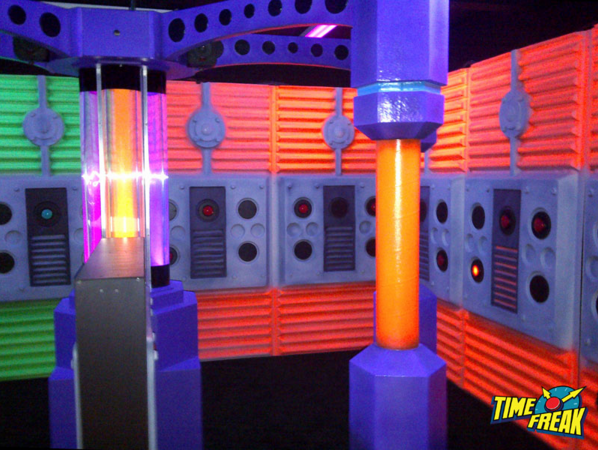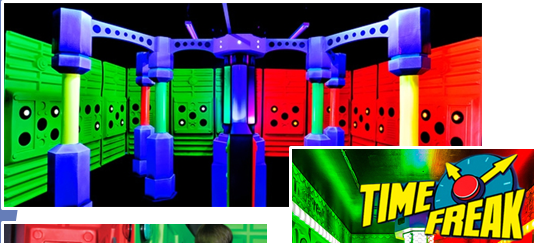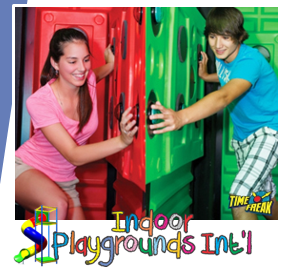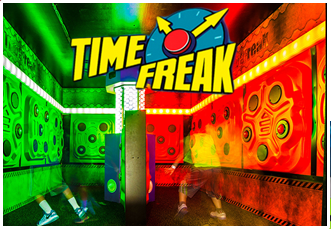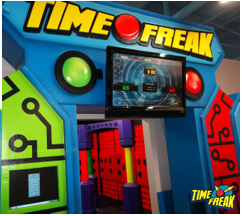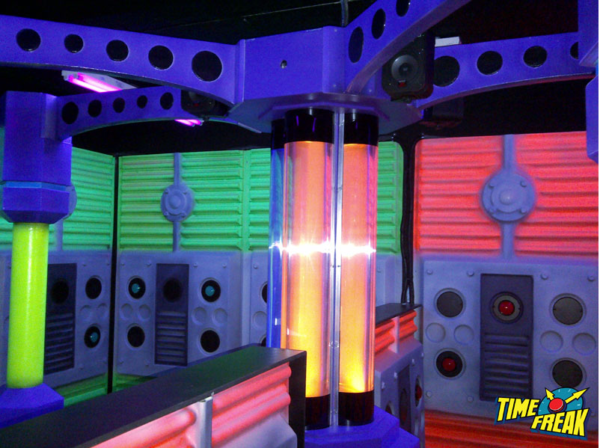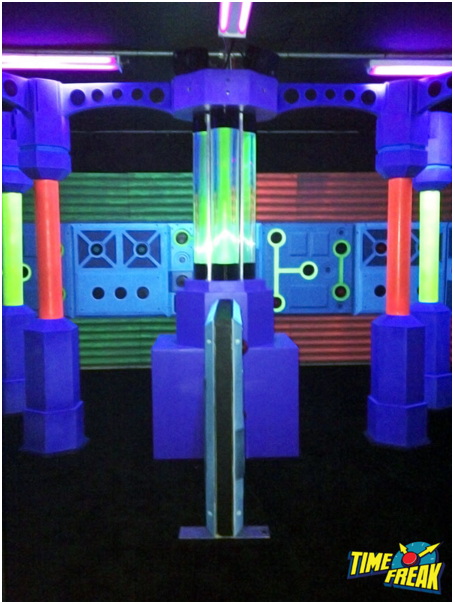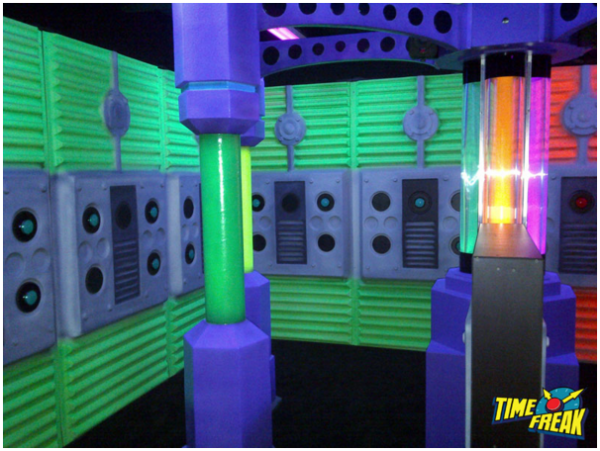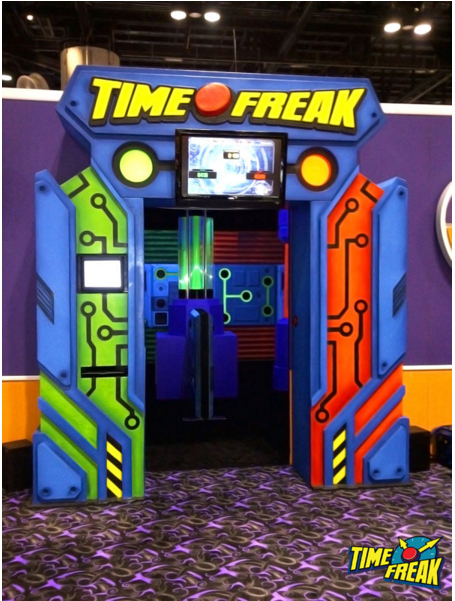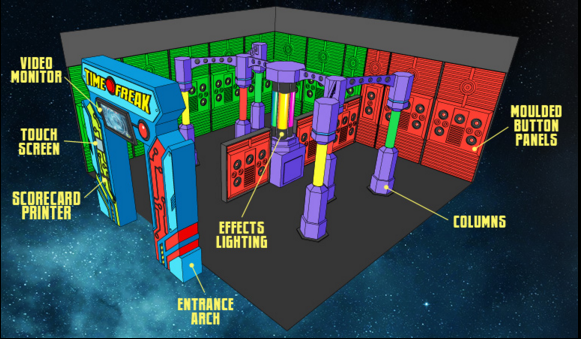 Time Freak
Size (Feet):
Larger units are available
In Time Freak players are immersed in a vibrant UV themed room with 3-D props and facades. Heart-pumping music, sound effects, and voice prompts add to the excitement. Players race to tap the lights on the wall. The more lights you tap, the higher the score. Ticket redemption available.
Compare
| | |
| --- | --- |
| Age | |
| Size (Feet) | |
| Capacity | |
| Solution | |
| Square Foot Range | |
| Theme | |
Details
INSIDE THE TIME FREAK GAME ROOM, players are immersed in a vibrant UV themed room with 3-D props and facades. Heart-pumping music, sound effects, and voice prompts add to the excitement. All of this is shown on a big screen monitor mounted outside the room so that other guests can watch the action and cheer on the players.
When the game is complete, players exiting the game room will see their scores displayed on the Scoring Monitor and receive a printed scorecard to compare with other players and see how they stack up against the daily, monthly and all time high scores.
The TIME FREAK system includes the following components and features:
NO STAFFING REQUIREMENTS – TIME FREAK can operate with tokens, bills, or card swipe systems. All game instructions are both listed outside the entrance and spoken aloud as part of the countdown to the game.
MULTIPLE GAME OPTIONS – Our software is designed for multiple game options (time, speed, and target sequence) allowing you to challenge players of all skill levels and keep them coming back again and again.
OWNER REPORTS – You can monitor performance, usage, and game details on our easy to use touch screen monitor.
WIDE DEMOGRAPHIC APPEAL – TIME FREAK is a hit with children and adults alike. It is also an excellent group and party attraction!
MULTIPLE SIZE OPTIONS – Single Player – 200 sq. ft. Two Player – 400 sq. ft. . An empty party room might be all the space you need!
REDEMPTION TICKETS – TIME FREAK can be set up to dispense tickets and bolster any redemption arcade.
WARRANTY – TIME FREAK comes with a comprehensive warranty on all components.
RETURN ON INVESTMENT – Simply put: a matter of a few good months!
Safety & Quality Standards:
*Meets all safety standards USA, Canada, UK as well as the rest of the world. Including the strictest standards in the world which are ASTM F1918-12 of the USA and CSA Z614-07 (R2012) of Canada. To read more about our safety standards click here.
*Our playgrounds and materials have been vigorously tested by SGS S.A which is the biggest and most reputable testing laboratory. To read more about the testing we have done please see this link.
*We only use the highest quality materials including galvanized steel pipes and clamps, anti-climb netting where needed, thick soft post padding and high quality deck boards wrapped in bright PVC vinyl covers. To read more about the materials used in our indoor playgrounds please see this link.
*Aside from all of the vigorous testing we have done, the biggest evidence that can verify the great quality of our playgrounds as well as our commitment to providing only the best service and support to our customers is all of the projects we have done. Please click here to see some of our most recent jobs.