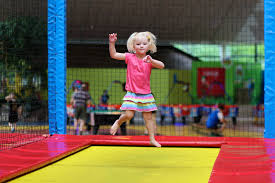 How Long Does Indoor Playground Equipment Last – When is it Time to Upgrade?
Indoor playground equipment doesn't get exposed to the elements like outdoor playground equipment does. However, that's not the only kind of wear and tear your indoor playscape will face.
If your indoor playground is popular with families, it will be used by a lot of kids. That's great for your business, but it is a double edged sword. The more your playground equipment gets used, the more wear and tear there will be, and the more frequently you might need to repair or replace it.
The good news is that well-made commercial indoor playground equipment is designed to last at least eight to fifteen years. However, the more you do preventative maintenance, the longer it will last. So whether you need to know if you need an indoor playground upgrade now, or just want to plan for the future, read on. We've got all the information you need.
What Affects Playground Equipment Lifespan?
There are several things that might affect the lifespan of your indoor playground equipment. Let's take a closer look at some of them before we look at how you can extend that lifespan.
Quality Equipment
The first thing you should know is that the quality of the equipment is going to be the number one factor in how long it will last.
Higher quality, commercial grade playground equipment costs more because it's made from thicker steel, more durable plastics and better quality fittings. If you are building a commercial playground, you should never use equipment that is not made for commercial use.
Commercial grade equipment also usually has a longer warranty, so if something goes wrong before the warranty expires, you won't have to pay extra to have it fixed.
The Right Equipment for the Right Kind of Playground
The next important factor in the lifespan you can expect from your indoor playground equipment is whether you've got the right kind of equipment for your playground.
Your playground equipment should always match the intended use. So, for instance, you shouldn't use equipment that's intended for younger (and lighter) children for older kids. If you're going to have a space that serves different age groups, make sure that there are separate areas for each group.
Preventative Maintenance
Preventative maintenance is a big factor in how long anything lasts, and indoor playground equipment is no different. Make sure you check your playground for loose bolts or ropes, Velcro that has lost its stick and other easy fixes. Not only will this make your playground equipment last longer, but it will also make it safer for kids to use.
Material Quality
When you're choosing playground equipment for your indoor playscape, be sure to ask lots of questions about the materials that are used to manufacture the equipment.
Not only do you need to be sure that the materials are safe and approved for use in children's playgrounds, but you also want to be sure it's high quality. Look for less obvious things too – wall thickness of steel, for instance. The diameter of the steel is important, but you also want to be sure that whatever tubing is used has a thick enough wall to be durable.
Professional Installation
Material and design quality is an important factor in the lifespan of your playground equipment, but installation is also a factor.
A professional installed playground is assembled correctly, everything is tightened properly, everything is level and there is less tension on individual parts of the playground. A commercial indoor playscape should only ever be installed by a professional who has all the right tools and knowledge to do it correctly and safely.
Direct Sunlight
The good news is that your indoor playground equipment doesn't have to stand up to the elements like an outdoor playground would.
However, a lot of exposure to direct sunlight can still cause some equipment to fade and some plastics to become brittle.
It's a good idea to position your equipment so it doesn't get too much direct sunlight, or if you can't do that, to invest in blinds or window film that will protect it (and your customers) from the harmful effects of the sun.
Extending Your Playground Equipment Lifespan
Eventually, if your business does well, it will be time for an indoor playground equipment upgrade. So in a way, that's a good thing because it's a sign that your business is doing well.
However, you don't want to spend money on upgrades before you have to, and there are several ways you could extend the lifespan of your indoor playground equipment without spending a lot of extra money.
Regular Inspections
The first thing you need to do to make sure your playground equipment lasts as long as possible – and is safe to use – is to inspect it regularly. Look for any signs of damage, loose equipment, worn ropes, hinges that stick and other problems.
The frequency of inspection will vary depending on how busy your playground is. You could decide to do it daily, weekly or monthly. Just make sure you schedule it regularly and make written notes of anything you see.
Routine Maintenance
Every commercial indoor playscape will need routine maintenance. Even the best equipment on the market will have bolts that loosen over time, hinges that need greasing and other minor repair requirements.
Make sure that when you buy your equipment, you get maintenance information from the supplier. They should be able to tell you what will need to be maintained, and how to do it and what products (if any) you should use.
Repair When Necessary
In most cases, when there is damage to your indoor playground equipment, you won't need to replace the whole structure.
When you do see damage on one part of the structure, get it fixed as quickly as possible. Not only will this keep the structure safe, but it also ensures that the damage doesn't spread to other areas.
Keep It Clean
If you're running an indoor playground, you already know that hygiene is important.
Asking families to take their shoes off and wear socks when they use the equipment can help to keep mud and dirt from outside off your equipment which will reduce the risk of scratches. You can also use manufacturer approved cleaning products on the equipment to make sure it stays clean and sanitary for the families that use it.
Keep dirt and grit off the equipment will help to prevent scratches, which can age the equipment before it's time.
Consider Buying Spare Parts
When you do need to replace a component on your indoor playground system, there might be a wait while it's manufactured, picked, packed and shipped to you. Depending on what that part is, some or all of your playground might have to be off limits to kids and families while you wait.
To avoid those kinds of delays, it's not a bad idea to keep a few spare parts on hand. The supplier you got your indoor playground equipment from should be able to give you a list of commonly replaced parts, and then you can decide which ones you want to keep in stock for quick repairs.
Limit Capacity
The last thing you want to do when you're in business is limit how many customers you can have in a day, but when you're running an indoor playground facility, you might have to do just that.
Playground equipment is designed to handle a certain amount of weight and activity at a time, and if yours is consistently overloaded it will show wear faster. Not to mention that fire codes and other regulations probably cap the capacity of your facility anyway.
Make sure that you don't exceed the recommended capacity for your facility or your equipment if you want it to last.
When Should You Replace Your Equipment?
Now that you know how to preserve your equipment, you still need to know how you can tell when it's reaching the end of its life. After all, your equipment doesn't know how old it is! Look for any of the following:
Chipped paint and finishes that make it look shabby
Worn or damaged ropes or nets
Cracked or damaged plastic components like slides
Visible wear on important structural components
Broken parts that you can't replace from the manufacturer
If you need to do repairs and maintenance more frequently on a specific area of the equipment
If your employees or the families that use your facility are reporting problems with the equipment
Equipment that should be balanced but isn't
Usually, you will be able to see when your indoor playground equipment needs to be replaced – especially if you are doing regular inspections. When you start to notice more problems, it's time to start thinking about replacement instead of repairs.
Preparing for Replacement
Even if you have bought the best quality indoor playground equipment, had it professionally installed and maintained it well, eventually, you will need to do an indoor playground upgrade. It's just one of the costs of doing business as an indoor playground operator, and if your business has made it eight to fifteen years to need that kind of upgrade, you're definitely doing well!
There are several things you can do to prepare for an indoor playground equipment upgrade.
Start a Replacement Fund
The last thing you want to do, when you need an indoor playground equipment upgrade, is to create debt financing it. You'll pay more on interest and carrying too much debt is not good for business.
Consider starting an equipment replacement fund and putting a percentage of your profits into it every month. You'll be surprised how quickly it will grow, and because you'll have cash on hand when you want to buy, you might have more options available.
Plan the Schedule
The last thing you want is to have to close your indoor playground during a busy part of the year, like the summer vacation. So if you know your equipment is nearing the end of its life, plan your repair for a time that is usually quieter – like immediately after the holidays, or in mid-winter.
If you have a playground that has different areas for different age groups or uses, you could also consider doing the indoor playground equipment upgrade you need in stages, so you only have to close some areas of your business. This depends a lot on the design and layout of your business though, and if you can safely allow families to use other parts of the space while work happens in some areas.
Don't forget that many manufacturers make some equipment to order, so you might need to order a month or two in advance of your planned replacement.
Shop for Options
If it's been eight to fifteen years since your indoor playground equipment was installed, there's a good chance that exact design might not be available anymore. Not to mention that cool new equipment is designed and added all the time !
If you know you've got an indoor playground upgrade coming soon, start looking at the products and designs that are available a few months before you need to have it installed. You could even survey your regular customers to find out what equipment they would most like to see in your facility! Knowing exactly what your customers want is a great way to make your indoor playscape the most popular place for families in your area.
Choose the Best Equipment You Can Afford
Whether it's for a new playground facility or an indoor playground equipment upgrade, the golden rule is always to buy the best you can afford. Your indoor playground equipment is the most important part of your business, and it's important that it's well made, fun to use and will last for a long time to give you a great return on equipment.
Never be tempted to cut corners or save a few dollars at the expense of your equipment. It will only cause you to lose money over time.