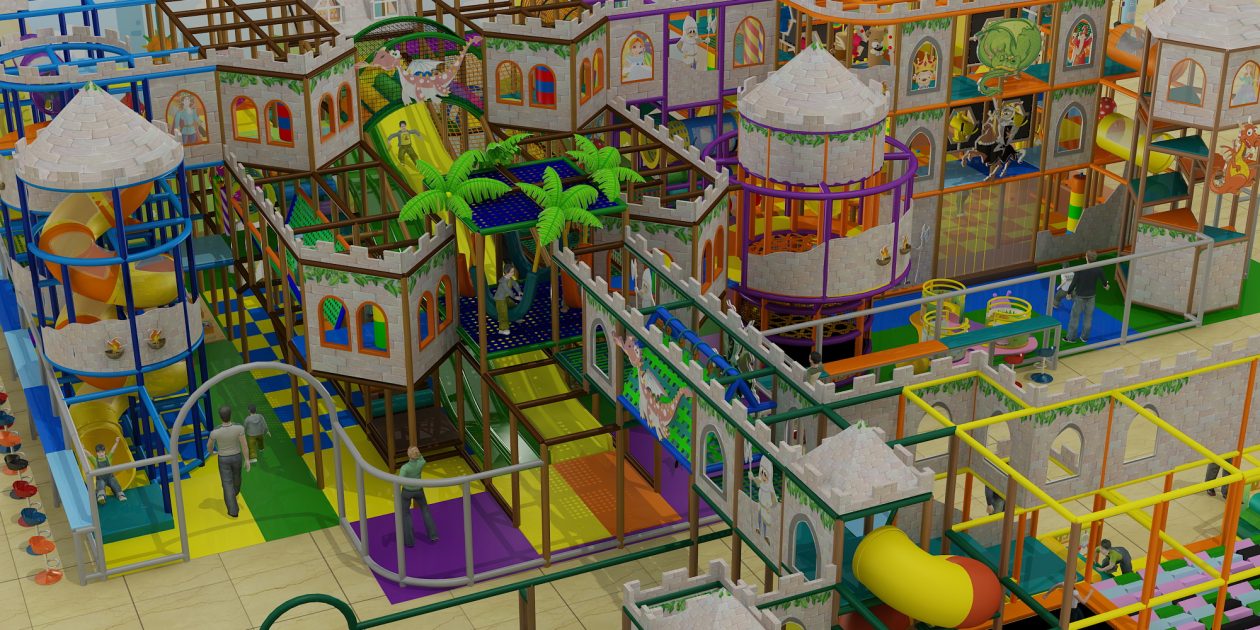 How to Choose a Good Theme for your Indoor Playground Equipment
Creating an indoor play structure that kids and families love is more than just putting in some swings and a climbing system. The best indoor playscapes have a theme that helps to stimulate the imagination and encourage creative play.
But how do you choose the right theme for your indoor play equipment, and if you're buying commercial indoor playground equipment, how do you find someone that can turn your vision into reality? Here's what you need to know:
Low Hanging Fruit
Sometimes, the location of your business name gives you all the information you need to choose a theme for your indoor playground equipment. For instance, if your play space is near something like the zoo, you might go with a wild animal theme. If your business is near the ocean, a marine theme is an easy option.
You won't always find obvious ideas for your indoor playscape as easily, but if you do, it's worth at least putting them on your shortlist!
The Children You Plan to Host
Very often, a children's indoor playground is aimed at a particular age group. This can also help to choose an appropriate theme for your commercial indoor playground equipment.
Younger children, for instance, might enjoy a garden theme while older kids love adventurous themes like space or car racing.
If you plan to host children in various age groups, you might want to choose themes that complement each other for different spaces. So, for instance, you could have a jungle theme for younger children, and jungle animals for older children, or ocean for younger children and boats for older kids.
Interactive Elements
Many of the most popular children's indoor playgrounds have themes that incorporate interactive elements. So, for instance, you might have a play space that has a musical theme, and then have kid friendly oversized "instruments" that they can play and play with.
When you're thinking about the theme for your indoor playground equipment, be sure to consider what kind of interactive equipment and play areas you can include in the design.
Practical Considerations
The size and shape you have available for your indoor play equipment will also play a big role in the theme you can have in the space. Some ideas – like rocket ships for instance – would be very tall, and if you have a space with a low ceiling, which might not be possible.
It's always a good idea, if you have blueprints of the space, you're going to put your children's indoor playground in, to provide them to the company that is manufacturing or building your indoor playscape. That way they can be sure that they're working with the right dimensions, and there's enough clearance around the structure for safety and ease of use.
Your Budget
Budgets for indoor play spaces vary. Some people choose to spend a little less on their commercial indoor playground equipment, and if that's the case for your indoor playscape, it's a good idea to keep the theme and design simple.
If you want a more complex design and theme but you don't have the budget for it right away, you might be able to start small, with a core design, and add to the indoor play structure in phases. The company who is supplying and installing your equipment should be able to tell you what your options are.
What's Available
Often, when you're trying to decide about the design and theme of your indoor play equipment, it helps to look at what has been done elsewhere. Many companies that supply and install commercial indoor playground equipment have a gallery of their work on their websites. You can look at galleries from around the world if you like, to find inspiration for your own indoor play space. Even if you can't get the exact same design, it's a great way to see what's possible and what has been done for other sites.
You could also visit playgrounds in your area. While you are looking specifically for indoor playground equipment, you can still get a lot of inspiration just by driving around your neighborhood and seeing what the best playgrounds look like. Take pictures of equipment or designs that really inspire you and ask the company you choose to do the design and installation to incorporate them.
Choose a Company that Offers Custom Solutions
Finally, you should know that not all companies that supply and install commercial indoor playground equipment are the same. Some only offer a limited catalog of options and configurations, so you have to choose your indoor playscape from, essentially, a list of design and theme options.
At Indoor Playgrounds International, we like to leave as much of the design and imagining process to the client. So we work with the components we have to make your vision a reality. Instead of a limited number of theme options, our team can customize your indoor playground equipment to be nearly anything you want it to be. You can see our work in our online gallery too, but that's really just a small sample of what we can do, and if you can imagine it, we can probably make it happen.
So if you're looking for indoor playground equipment that's different, unique and tailored to your exact space, give out team a call. We love to create commercial indoor playground equipment structures that are different, interesting and fun for kids and families.