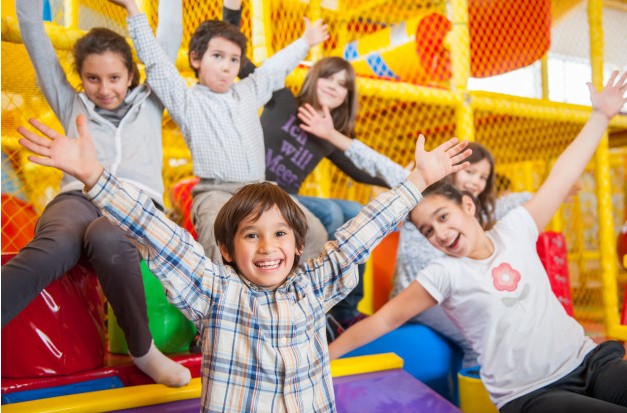 How to Safely Reopen an Indoor Playground
There's no denying that Covid has changed the way we look at the world. Things that we used to do without thinking suddenly require a lot more planning and worry. We're still wary of some of the activities we used to LUV, and even though there is some light at the end of the tunnel, we're all still unsure about what the future might bring.
The pandemic has been the single biggest global upheaval in living memory. It's completely normal to feel nervous and concerned. However, life has to continue, and one of the most important things for kids is play. When the weather is not good or it's too hot or cold, that sometimes means indoor playgrounds. Here's how indoor playgrounds can safely reopen as we navigate our way out of the pandemic and beyond.
Communication Is Key
We've all been bombarded with a lot of different information for the past couple of years. So, it's only natural that people are confused. Make sure that you put communication at the top of your list. Whatever rules you put in place for the safe reopening an indoor playground or family entertainment center need to be clearly communicated.
Include them on your website, post signage in your facility, and make sure they are universally and fairly applied. The key to getting though this is to be kind and considerate to each other, and for everyone to consider each other's needs.
Cleaning and Sanitizing
The latest scientific information says that there's a lower risk of Covid transmission from surfaces than from other sources. However, that doesn't mean there's no risk.
It's still possible that someone might cough or sneeze on indoor playground equipment, and someone might touch that area and transfer virus particles to their eyes, mouth or nose.
Even under normal circumstances, this is a risk with other kinds of bacteria and viruses. So, it's a good idea to pay attention to cleaning and sanitizing protocols. Provide hand sanitizer at all entrances and exits and encourage use. Make sure that indoor playground equipment is regularly cleaned too. Whether it's tummy bugs or Covid, we don't want transmission via equipment and fixtures!
Set Occupancy Limits
Covid guidelines still recommend occupancy limits. So, it's important to create indoor playground rules and practices that encourage that.
Move chairs and seating further apart, so parents and kids can space out further from each other when taking a break and consider cutting the maximum number of people who can be in your indoor playground at any one time. You could also use timed ticket booking to make sure everyone gets a turn to enjoy the space as you are reopening an indoor playground or family entertainment center.
Make Masks Mandatory
There has been a lot of controversy around mask use, but all the science points to them being beneficial in preventing Covid transmission – and they're great at preventing colds and flu too!
Even if masks don't work, there's no risk to wearing them, and if it makes families feel safer to use indoor playgrounds, then there's nothing to lose and everything to gain.
Have a stock of high quality disposable masks in various sizes on hand too, so anyone who doesn't have one with them has easy access and isn't excluded from the facility. Make sure that people wear them correctly too – they should cover the full nose and mouth area.
Implement Covid Checks
Whether it's Covid or something else, it's probably not safe to use an indoor playground if you have a cough, are sneezing or have a high fever. Families should avoid using indoor playground equipment and facilities if there is a chance, they might have a contagious illness that they could pass along.
Make sure that you ask Covid screening questions before people enter and use a "gun" style thermometer to make sure no one has a fever. But remember that many people can have Covid and be pre-symptomatic and asymptomatic – which is why distancing and masks are still so important!
Ventilate Better
There's growing evidence that Covid can be spread in the air in enclosed, poorly ventilated spaces. So, make sure your plan for reopening an indoor playground or family entertainment center accounts for that.
If you can, open windows and doors for natural ventilation. Or have a professional come in and assess your HVAC system and make improvements. HEPA filters and air purifiers are a good way to keep air clean and fresh, and carbon dioxide monitors can tell you when it might be time to flush stale air out of your indoor playground.
Be Welcoming But Firm
There are lots of different opinions about Covid, how it is spread, how dangerous it is and so on. It's best not to get into debates about which opinions are correct and which are not when reopening an indoor playground. Simply base your rules on the current best safety advice and make them clear to all users.
Every family will have different ideas about indoor playground safety, and it's important to respect all of them. So, make sure your staff are trained to be courteous but firm about safety rules, and what to do when there's a problem.
It Can Be Safe for Families
The truth is, while we seem to be getting towards the end of the Covid pandemic, it might be a while before it's fully behind us. In the meantime, we can make it safer for families to use indoor playground equipment and facilities. Energetic, exciting play like kids get in indoor playgrounds is also important to their health and wellbeing, and a few changes to your safety protocols can go a long way to making it safe and inviting for them.
If there's one thing Covid has done, it's made us a lot more aware of health, safety and hygiene, and in an indoor playground environment, that's never a bad thing! So, here's to safe, happy, fun and healthy play indoors!