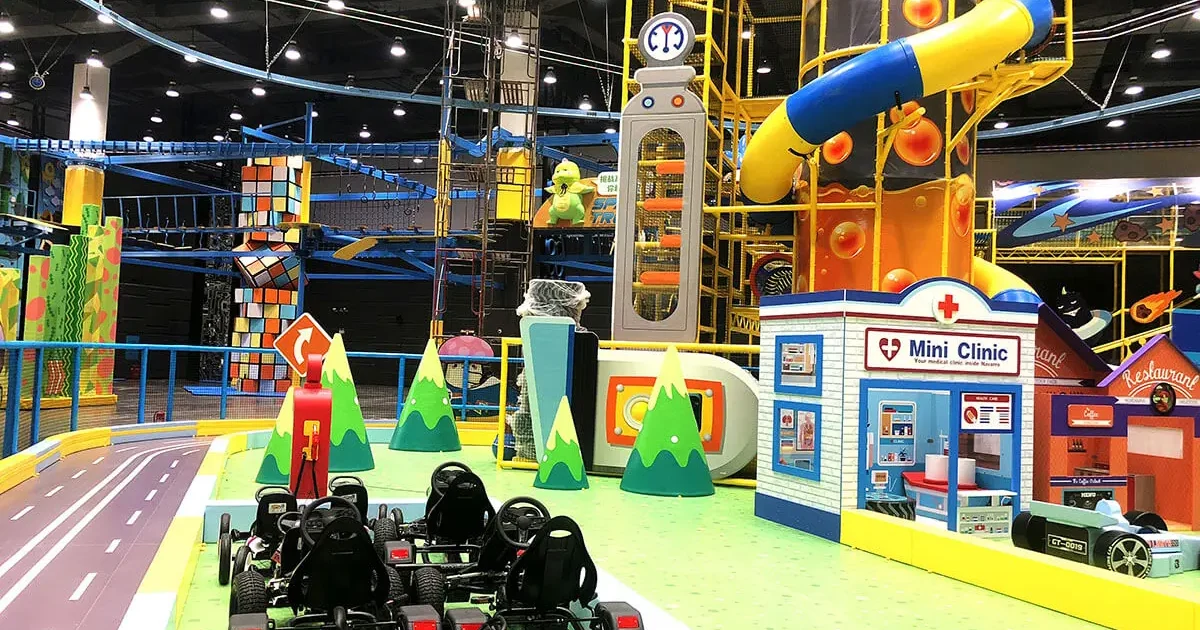 Why it is Important to Select the Right Indoor Playground Manufacturer?
With so many playground manufacturers to choose from today it can be a daunting task to make sure you are choosing the right supplier. Here are some tips on what to look for when choosing a supplier to help make your choice a little less stressful.
QUALITY
In the indoor playground equipment industry the quality of the equipment is of the upmost importance. You are ultimately responsible for making sure to keep your patron's most important loved ones are safe, their children. Choosing the right indoor playground equipment supplier is key to making sure that happens. It is important to choose the supplier with only the best quality of materials, support and a professional installation team.
Indoor Playgrounds International partners with a Chinese manufacturer however, due to the requirements of meeting standards such as ASTM, IBC and CBC which can change yearly we work extremely closely with our manufacturer to ensure all products are made to adhere to such standards. In addition, we get all products tested for all fire and safety standards in the USA to ensure proper test reports. We had all testing completed in America as of 2018 to ensure compliance.
Keep in mind if you choose an inexpensive supplier based outside of the USA you might have major problems with complying with your city's regulations (CBC, ASTM, IBC) and might not be allowed to open. This has happened to many business owners we have spoken to who eventually had to re-purchase their playground.
PRICE
Choosing the least expensive playground is not always your best option in the long run. It might seem like the better option up front to save money on your opening costs but in the end you will surely be spending a lot more time and money than you would be by choosing the right supplier up front. It is important to make an investment into one of the main attractions in your FEC which is your indoor playground equipment. I mean what is more important than making sure the kiddos are safe and your equipment will last a long time? It would be a shame to have to purchase brand new equipment again in a short time.
Keep in mind that inexpensive companies typically from overseas will only quote you for the playground itself which will be substantially less expensive than with shipping and installation. Make sure to compare apples to apples. Make sure to get a quote including all costs.
INSTALLATION
Inexpensive companies from overseas will likely tell you that it is around $150-$200 per day per worker and that you need to provide transportation, accommodations, food and water. It sounds like a good deal at first but how long will they really take? Will prices for these things go up by the time you are ready for installation? What if they take double the amount of time you were quoted? Most importantly, will anyone be available to help you with installation at this time? Due to COVID-19 many citizens from other counties are on lockdown and unable to come to the United States at this time. There is no set time that this ban will end. You could end up with a playground and nobody to install it.
Indoor Playgrounds International provides our quotes all-inclusive which includes full professional installation by our local US installers. Our installers have years of practice in the specific industry and have been fully trained and certified for indoor playground installation.
Why can't we just install it ourselves you ask? The installation of indoor playground equipment is a very niche industry. You must be able to understand the plans and how to build an INDOOR playground. You must also have experience with cutting padding and netting and attaching zip ties, slides, play events etc. otherwise you will not be able to properly install an indoor playground. We have had a plethora of customers attempt to install themselves due to knowing a contractor or outdoor playground installer and ending up contacting us for help with installation. It will save you a lot of time and money in the long run to allow a professional to do the installation. In addition, it will ensure that your warranty stays intact.
WARRANTY
Overseas manufacturers will likely say they provide warranties on all of their equipment for one year. How long will it take you to get the replacement parts you might need? Who is going to repair or replace the broken items? You will either have to do it yourself or hire a contractor who likely will not know how to do the repair and can be very expensive.
Indoor Playgrounds International provides an industry leading 18 month warranty. We have a warehouse of equipment for repairs/replacement located in Surprise, Arizona so you can get your repair parts fast. In addition, we have local professional installers who can do the repairs for you which is included in our all-inclusive price (for most repairs). You can read about our warranty here: Warranty – Indoor Playgrounds International
HIDDEN FEES
Be careful when comparing prices to make sure there is no hidden fees. Some manufacturers will quote without shipping or installation and just expect you to handle that on your own. In addition, there are other unexpected costs that can come up along the way that you would not have known about such as more time for installation than expected, additional shipping fees, customs inspections, increase in trucking fees etc. For example, when you obtain a shipping quote from any logistics company, such quote will not include insurance, merchandise processing fees, harbor maintenance fees, taxes/import fees and tariffs. Those costs alone are upward of 12-15% and most likely will not be disclosed. Indoor Playgrounds International quotes an all-inclusive price that includes every charge from manufacturing to getting your playground installed and ready to use**.
PROTECTION
What kind of protection do you have for your playground purchase? After all, you are investing a lot of money into your new or expanded business, so it is very important to make sure you are protected upon purchase. Choosing a local USA based company to purchase from can help to maintain that level of protection for your business. Local companies are required to adhere to all new rules, regulations and maintain insurance.
In the long run spending less upfront will very likely cost you much more over time. In addition to the time and hassle of dealing with anything that might happen. Take the time to do your research and choose the right manufacturer for you. If you have any questions or concerns please contact us at info@indoorplaygroundsintl.com.
**Unloading the shipping container, cleaning the playground upon completion of the installation and providing a dumpster for trash while installing are not included in the price.