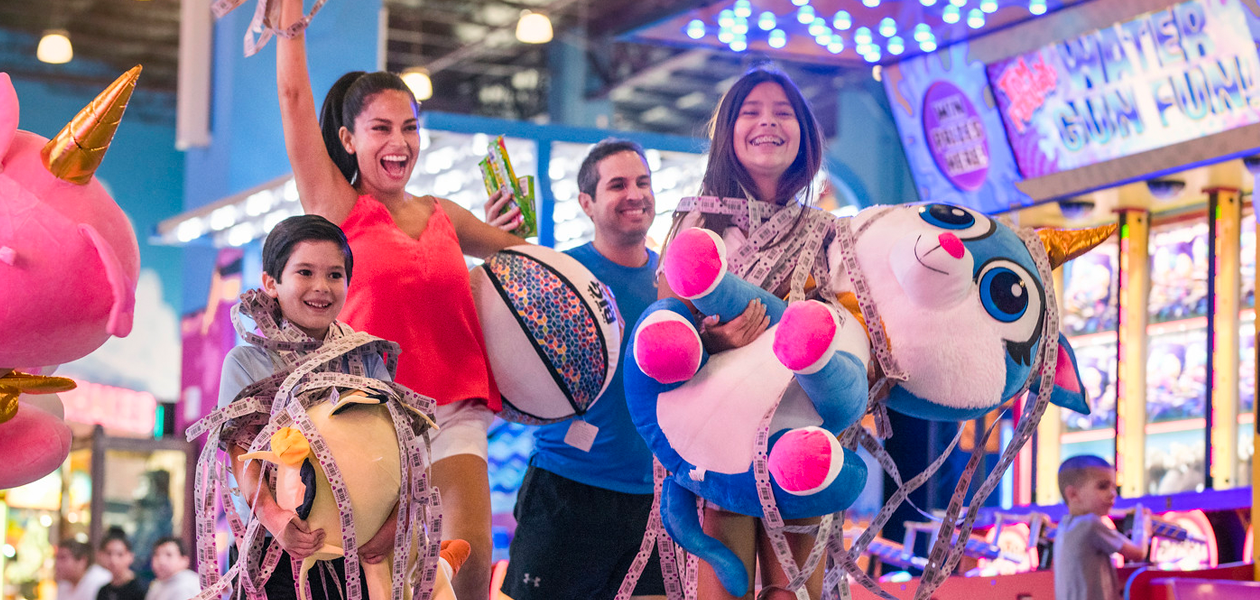 Benefits of Adding Redemption Gaming to your Family Entertainment Center or Indoor Playground
An indoor playground is an excellent place for families, but if you really want to have a true family entertainment center, you should consider adding redemption gaming.
A family entertainment center arcade has many different benefits for your indoor playground business. Let's take a closer look at what they are.
It's Great for Parents
Indoor playgrounds are really fun for little kids, but they might not stay as long if there's nothing for parents to do. There's only so much scrolling you can do on your smartphone, and when you've caught up on all the news, you might get bored. As grown-up as parents are, they probably still have some arcade skills, and reliving their youth is likely to keep them in your center for longer.
Parents are also more likely to plan a visit to your indoor playground on a rainy day since there's something to keep everyone happy and entertained.
And Older Kids
Many families find that planning a visit to a family entertainment center is tricky. While their younger kids love soft play playground equipment and themed playscapes, older kids aren't that interested anymore.
There's an awkward age when your children are too old to love the slides and swings but too young to stay home when you visit the indoor playground. A redemption gaming area gives them something to do too.
Better for Revenue
Adding a family entertainment center arcade means that families are more likely to stay longer since there's something for everyone to do. The quickest way to get families heading out the door is if one or more of their children gets bored!
There are several ways that this can help to increase your profits.
First, when families do stay longer, they're more likely to buy other things, like snacks, food and drinks. They'll also be buying game tokens or reloading a card so they can keep playing.
Finally, once the families who visit your indoor playground have started winning tickets, they're also more likely to come back, so they can get more tickets and get the prize they really have their eye on.
Options for Younger Kids Too
The great thing about a family entertainment center arcade is that they don't have to be restricted to one age group.
Many indoor playgrounds that do opt to add this feature to their play space include options for younger children, including rides and younger child-friendly games. So you can have the car racing games and the thrilling shooters for older patrons, but also have some fun and easy games for little kids to enjoy.
Something to Do While Waiting
If you have a very popular indoor playground, you might have situations where there are too many families who want to use the playground, and you might have to wait until someone leaves before you can allow them into the play area.
A family entertainment center arcade is an excellent option for those families that need to kill a little time before they can get to the soft play equipment and other areas of your indoor playground.
Great for Birthday Parties
Parents are always looking for new places to have birthday parties. An indoor playground with a family entertainment center arcade is a top choice – especially if the birthday happens in the winter!
To increase your indoor playground's birthday venue appeal, you could even offer a special birthday party package deal that includes a certain number of game tokens for each child!
As you probably already know, having birthday parties at your family entertainment center is great for business, and the more you can encourage that, the better.
A Great Way to Use Empty Space
Most indoor playgrounds are built in rented spaces, and rented spaces usually don't come in the shape and size you would have chosen if you had every option available.
This means that you probably have at least a little unused space that you don't know what to do with, even after your indoor playground and soft play playground equipment, tables and chairs and other facilities are installed.
A family entertainment center arcade turns unused space into another money earner and gives everyone who uses your facilities more entertainment options.
After School Hangout
If your indoor playground happens to be close to a school, then there's a good chance you will see some of the kids who attend after school. In fact, you might want to consider offering local schools a special rate to drop in after school or even for special school events and fundraisers.
Make It More Family Friendly
Owning and operating an indoor playground is a great way to make a living, but it is also an ongoing process. Whether it's changing out your soft play playground equipment every few years, finding new ways to keep families entertained and happy or offering healthier options on your food menu, it all goes a long way to making your family entertainment center more attractive to families.
Looks Fun and Friendly
The final reason why you might want to add a redemption gaming and arcade area to your family entertainment center is that it will really brighten it up!
Since your building is probably rented, you probably don't have too much say in permanent changes, but the lights, sounds and bright colors of an arcade are entirely movable. So you won't have to make any significant changes to inject a whole lot more fun!
Find Out All Your Options
If you're thinking of opening an indoor playground or already have one and want to upgrade some of your equipment or features, we'd love to help.
Our team has been helping family entertainment centers to build the best experience for their customers for many years. Whether it's planning your space, designing a theme or creating soft playground equipment, we can help.
We love helping indoor playground businesses of all sizes to find the right equipment for their space and to build successful companies that make lots of families happy!