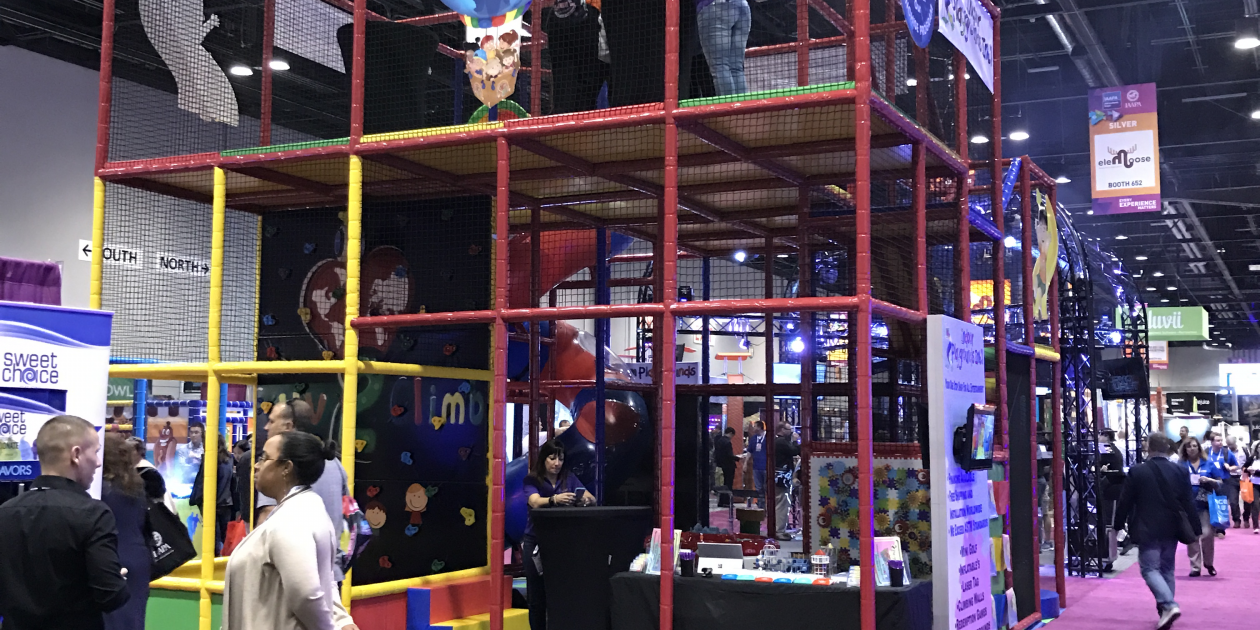 Why Someone Purchasing an Indoor Playground Should Visit the IAAPA Trade Show in Orlando
If you're like most people, you've been doing a lot more shopping online over the past few years. However, while that works perfectly for smaller purchases, it's not the best way to make a big investment. There are some things that you need to see in person before deciding, and if you're planning to make an indoor playground purchase, that's definitely in this category.
There's only so much you can learn about indoor playground equipment by looking at photos and drawings on a website!
The good news is that the IAAPA or International Association of Amusement Parks and Attractions trade show in Orlando is a fantastic place to see what's out there, talk to people who are passionate about indoor playscapes and find out more about quality, design and more. Here's what you need to know
What Is the IAAPA Trade Show?
The IAAPA, or International Association of Amusement Parks and Attractions, has been around since 1918 and is the premier global association for the amusement park and attractions industry. Events like this year's trade show in Orlando, Florida, attract the best manufacturers, distributors and designers of quality equipment, and it's a great place to find everything you need to know and see under one roof.
Why Does Visiting An In-Person Trade Show Matter?
As you might have already discovered, there's a lot that goes into an indoor playground purchase. Of course, your budget is a big factor, but there are so many other things to decide when you are designing an indoor playscape or indoor amusement park.
Everything from the theme to the age of the children it's designed for, to accessibility, quality and safety certifications – plus many more things you probably haven't considered yet.
Visiting a trade show like the IAAPA expo is a great way to meet people who are knowledgeable and passionate about indoor playground equipment. They can answer questions, advise you about design options, provide you with product information and more.
There's only so much you can learn about indoor playscapes by going online, and the best way to fill in the gaps is to speak to the experts.
Quality Matters
When it comes to your indoor playground purchase, one of the most important factors is going to be the quality of the equipment you purchase.
There's a vast array of options out there, but cheaper, lower-grade systems typically have shorter lifespans and might not be suitable for use in high-traffic indoor amusement parks and playgrounds.
Some imported equipment might not meet all of the local regulations and requirements either, or you might struggle to find replacement parts or after-sales service when you purchase this type of equipment from abroad.
Warranties on playground equipment can vary enormously too, and while some companies offer longer, more inclusive warranties, some will only cover your equipment under very limited circumstances. That's something you want to know before you make the investment!
Again, speaking directly to the companies you are considering for your indoor playground purchase allows you to ask all of those questions (and more), so you have all the information you need to make the best decision about your indoor playscape.
Planning Your Play Space
There are so many options and things to consider when you are planning an indoor playground purchase that you might feel overwhelmed at times.
From trying to picture the size of the indoor playscape equipment you're considering to figuring out how much financing you will need to make the purchase, there are many practical considerations that need to be explored.
A visit to a show like IAAPA gives buyers, business owners and entrepreneurs the opportunity to ask all of these logistical questions. You can also find out about how to connect with qualified installers in your area, shipping and manufacturing times and more. So you can fill in all the gaps in your planning and create a full plan for your indoor playground project.
This is also a great way to get theme ideas for your indoor playground – and it might take your whole design in a new and exciting direction!
Compare Options
In some cases, companies that exhibit at events like IAAPA will have real samples of materials that you can hold and touch. They will have up-to-date catalogs and pricing, and very often, there are special deals to be had at trade shows and expos.
Most importantly, these kinds of events put several different options together in one room, so you can ask all your prospective indoor playscape suppliers the same questions and compare their answers. When you are making a big investment like an indoor playground purchase, comparing apples with apples is one of the most important things you can do!
Some indoor playground companies offer limited options and don't have custom manufacturing options, which will limit the possibilities for your playground. So it's important to find out what kind of options are available from each company too.
We'd Love to Help!
Indoor Playgrounds International is proud to be back at IAAPA this year, exhibiting our products and sharing our expertise in booth number 4652. The expo runs from November 14th – 18th,2022, and Indoor Playgrounds International has a limited number of free tickets to give away to visitors who contact us at info@indoorplaygroundsintl.com. So if you want to visit the expo FREE, don't hesitate to reach out!
Most importantly, our booth at IAAPA will be staffed with indoor playscape experts who can help you to design and select the best equipment for your playground project. We're happy to provide design advice, discuss pricing and financing options, and answer your questions about everything from after-sales service and warranties to our safety and quality compliance standards.
If there's anything you want to know about indoor playscapes that will help you to make the right indoor playground purchase, we're ready to help! We can even provide you with a list of our previously completed orders, so you can visit our playgrounds in your area and see them up close.