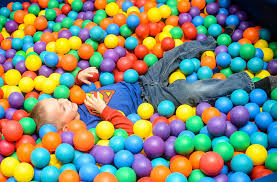 How an Indoor Playground can Help All Ages with Physical Therapy
There are many reasons why children, teens and adults might need physical therapy. Sometimes, it's because of a condition they were born with. Other times, it's as the result of an accident, illness or injury.
Whatever the reason for needing physical therapy, there's no denying that it can be lifechanging.
Physical therapy can help people to recover from injuries and regain some or all of their abilities. It can also help to keep kids and adults healthier in spite of conditions that might not be completely curable. It helps families too, giving them a great way to help and be involved in their loved one's treatment.
If you've never considering an indoor playground for therapy, you're probably not alone. When we think of physical therapy solutions, we're more likely to think of hospitals than we are indoor playgrounds. However, there's a growing body of research that proves that using an indoor playground for therapy is effective, and a lot of fun! Here's what you need to know.
What Is Indoor Playground Therapy?
There's a special sub type of physical therapy and mental health treatments that is known as play therapy. Sometimes, play therapy uses puzzles, books, and activities, but there's also proven benefits to physical play therapy, such as the type patients get on indoor playground equipment.
Technically, playground therapy could be done indoors or outside, however, because it needs to be consistent and predictable, it's usually a good idea to opt for an indoor option. That way heat, rain, other types of weather problems and more can't derail your planned therapy session!
Playground therapy is usually done using specially designed physical therapy equipment that is safe for the age and ability of the child or person. It is observed and supervised by trained therapists, who take careful note of how the child or person uses the equipment and expresses themselves.
This allows therapists to interpret their engagement and ability and helps them to develop a comprehensive and effective treatment plan.
There are several other benefits of using an indoor playground for therapy, including: L
Different ways to engage with their therapists – sometimes, all patients need is a different outlet to express themselves to unlock new treatment options
A relaxed, fun environment that kids can really express themselves in
It's fun! Physical therapy can be gruelling, but when you combine exercise with play, it's more fun for everyone, and kids might even achieve more because they're enjoying themselves
Revealing hidden information about patient's abilities and struggles
Playground therapy is not a replacement for ordinary physical therapy equipment, but it is a great way to learn more about patients and their needs and is a great break from traditional therapy sessions.
Who Could Benefit from Indoor Playground Therapy?
As we've already mentioned, there are many kids, teens and even adults who can benefit enormously from playground therapy.
These include patients who struggle with behavioural conditions, including ADHD, hyperactivity and difficulty focusing during regular therapy sessions. It can also help kids who are struggling with anxiety, depression, and PTSD, who might find it easier to express themselves in a play-based therapy session.
Children who have been or are ill can also benefit enormously by using an indoor playground for therapy. Sometimes, kids who have been immobilised for some time during their illness need physical activity to rebuild their strength, while others might find playground therapy helps them to cope with the anxiety and stress of being treated for their illness.
Many children also have physical disabilities that make physical activities in unsupervised settings more difficult or dangerous. An indoor playground for therapy gives those kids a safe, supervised, stimulating place to use their bodies and gain physical strength and dexterity.
Play therapy is also great for children with delayed development, including speech delays, social interaction problems and coordination problems, among many others.
Families of patients who are working through these issues also benefit, because they get to see their loved ones having fun and enjoying the indoor playground experience.
What Can Indoor Playground Therapy Do for Kids?
When it comes to physical therapy solutions, the experience is important, but the outcome is even more crucial. The good news is that over the years, there are some very important proven benefits of using an indoor playground for therapy, including:
Improved communication skills – both verbal and nonverbal
Physical development and healing – while traditional physical therapy equipment creates a good foundation, indoor playground therapy gives kids motivation to push themselves even more
Improved muscle control, bone density, balance and more
Processing and recovering from trauma – not every child who needs physical therapy solutions has only experienced physical trauma – sometimes, they also need to process emotional and mental stress
Improved self esteem and confidence – often, kids who struggle find it hard to just be kids – play therapy helps them to forget their troubles for a while, and just enjoy playing
Enhances and develops social skills and problem-solving abilities
Encourages creative play, which is fundamental to children's development
You might think an indoor playground for therapy is purely used for the physical benefits, but the truth is, they are invaluable for mental and emotional health and development too. Play is one of the most important things kids can do and encouraging it in this way has universal benefits.
Designing An Indoor Playground for Therapy
Kids are all very different. Whether they need play therapy or not, they all develop differently and have different skills, talents, and abilities.
This is why it's so important to work with a professional indoor playground designer and manufacturer, to create and construct a space that is safe and accessible, but also challenging and fun.
Most indoor playgrounds that are used as physical therapy solutions need to cater to kids of different ages and with different needs, so it's a good idea to combine several different types of play structure and physical therapy equipment. Some of the more popular options include:
Swings, including a variety of options for kids of different abilities, including wheelchair swings – these help to build balance and muscle control, and are great for building strength
Slides, which are also available in a variety of configurations for kids of different ages and abilities – these help kids to develop social skills when playing with others on the slide, and improves muscle tone and balance
Sculpted foam structures – these soft play structures can be manufactured in a huge variety of designs and configurations, and can include tunnels and slides, all of which help kids to build flexibility, strength and dexterity, all while playing in a soft, safe space
Foam and ball pits – both are a soft, bright, and enjoyable place to explore, and are great for kids who might not have as much mobility or who need quieter play experiences due to sensory processing disorders
Foam mats – sometimes, kids want to be the architects of their own play, and foam mats give them the perfect place to do that safely – combine them with a variety of toys, and the play opportunities are endless
Climbing walls – whether they're designed to be accessible to kids with mobility issues or standard rock-climbing walls, climbing during play therapy is a great way to build coordination and muscle control, and to improve problem solving skills
There are many other options when it comes to designing an indoor playground for therapy, and there are play structures and physical therapy equipment for playgrounds that can be used and enjoyed by kids of all abilities.
The right mix of indoor playground equipment for your play therapy space will be challenging, exciting and visually stimulating. It will also be safe for kids of all ages to use and play on.
The best way to ensure that your indoor playground for play therapy meets all the regulatory requirements as well as being tailored to the needs of the users is to work with a professional commercial playground equipment supplier who manufactures indoor playgrounds for therapy.
Building Playgrounds for Play Therapy with Therapy Land
Indoor Playgrounds International is a leading US based manufacturer of playground equipment, and one of the areas we specialize in is designing and manufacturing indoor playgrounds for therapy.
In the past, we have worked with play therapy specialists like Therapy Land to create play spaces that get kids away from physical therapy equipment for a while, and allows them to learn, play and have fun while building mental, emotional and physical strength.
How We Work
Indoor Playgrounds International works with a huge variety of customers designing and manufacturing commercial grade play spaces for every kind of setting you can imagine.
When you contact our team of specialists, they can provide you with a catalog of products including sizes, color options and more.
We have a huge selection of standard systems and products, but we also offer customization services when required. We can also help you to design a layout that works with the space you have available.
Every piece of playground equipment we manufacture is made to the very highest US safety and quality standards, which means they are safe and durable.
Once you have selected the equipment for your indoor playground for therapy, we manufacture, package, and ship it to you, and we'll even help you to find a qualified and reliable installer in your area.
Where Can You Install an Indoor Playground for Therapy?
There are many different places where you might consider installing an indoor playground for therapy.
Hospitals, whether general or specifically for children are a great place to install this kind of equipment. This makes it quick and easy to complement the work of traditional physical therapy equipment with play.
Independent physical and mental and emotional therapy centers can also benefit from having their own indoor playground for therapy, so that they can offer patients who might not do as well with traditional therapy a different way to express themselves.
Like Therapy Land, there are also many facilities that offer play therapy to the public and give families a safe and accessible place to relax and have fun.
Great Indoor Playground for Therapy Additions
Building an indoor playground as a supplement to traditional physical therapy solutions is a great way to give kids and their families a fun and different way to get therapy while having fun, but there are several ways you could take the experience to the next level for them. Some ideas include:
Installing speakers and audio equipment to allow you to play music in the space for kids who enjoy that kind of sound
Choosing a theme for your indoor playground – whether it's pirates, a tropical island or the zoo, most kids will love a playground that has them, and it's great for encouraging imagination and creative play
Don't forget the walls! When you have your indoor playground equipment installed, consider adding murals or bright paint to your walls
If you will be using your facility for kids with different abilities, consider creating zones that are targeted to particular needs – for instance, you might have a quiet zone for kids who have sensory processing issues and need to have a quieter, calmer play experience
Don't forget other facilities! Everything in your indoor playground should be geared toward all kids that require physical therapy solutions, which means ensuring everything is accessible for people of all abilities
An indoor playground for therapy should be an inclusive, fun, and relaxing place for kids and their families. The more thought you can put into the type of equipment you install and the overall experience for kids and their families, the better.
Should You Create an Indoor Playground for Therapy?
If you're wondering if you should create an indoor playground for therapy, you're certainly not alone. Building an indoor playground takes a fairly large investment, and you might be wondering if it will be worth while for your business.
Of course, if your business offers physical therapy solutions or you work for a hospital or similar medical facility, the choice makes itself.
However, if you are thinking of opening a new facility that offers specialized services to kids and families in your area, it might not be that simple to make the decision.
Consider where you are, and what the needs of the local community are. If you are in a large city that has children's hospitals and other medical facilities, then there are probably plenty of families looking for special spaces to enjoy play therapy.
Speak to people who do work in hospitals and other settings where they use traditional physical therapy equipment and find out if there is a need for a facility like this.
Remember that even if hospitals do have their own on-site play therapy spaces, they might not have the capacity to help all the families that need this kind of space. Their physical therapy teams might be willing to refer those patients and their families to your facility.
Don't Forget the Rest of the Family!
When you are designing and building an indoor playground for therapy, don't forget that very often, families will accompany their children to this kind of treatment. That usually means that they will bring kids who don't have special needs with them.
Consider adding a few additional play experiences to your indoor playground that are specifically for those kids.
You could also create special seating areas for parents who accompany children to their therapy sessions, and soft, safe places for younger children and infants to spend time while their older siblings have their physical therapy sessions.
Other Considerations
While the primary criteria for designing an indoor playground for therapy are safety, accessibility and fun, there are a few other things you should consider.
One is hygiene. When you are using an indoor playground for therapy, you will have lots of families and kids visiting the space, and whether we like it or not, kids tend to spread a lot of germs! Make sure that the equipment you choose is easy to keep clean, so you can keep families and kids who might be immune-compromised safe when they visit.
You might also want to consider enlarging some elements of the play structure so that you can have parents or physical therapists accompany kids who can't access or use them on their own.
Some indoor playgrounds that are used for physical therapy even have different areas that are built to cater to specific abilities. This allows kids to play in spaces where they can use all the equipment around them. This helps to build confidence and gives kids a sense of achievement.
Financing Your Indoor Playground for Therapy
Good quality indoor playground equipment is essential to ensure longevity and safety, but it does cost a little more than the residential stuff you can buy at a hardware store.
Fortunately, there are several options you could use to finance your indoor playground for therapy.
There might be charitable foundations in your area that will help you to raise the funds you need for your indoor playground equipment. Contact local social services organizations to find out about grants and other funding options.
Indoor Playgrounds International also partners with commercial financing providers, so you can get your equipment with a third-party payment plan that meets your needs.
If you are starting or growing a business that needs to get this type of physical therapy equipment, you might also be able to approach a bank or traditional lender for financing.
Usually, the best first step is to contact our team and get a quote for the indoor playground equipment you need and then plan your financing options from there.
We're Here to Help
There's simply no denying that play is the most important thing children of all abilities can do. It's so much more than just having fun. Play helps to develop mental and social skills, builds muscle, and improves balance and coordination.
The more kids can play in a safe and controlled environment like an indoor playground, the more they will thrive, and that really does apply to every kid, no matter what kind of challenges they face.
So, whether you're looking to add an indoor playground for therapy to your therapy practice, need to upgrade your hospital's physical therapy equipment or are considering opening a facility for families in your area, we'd love to help!
Our team of play specialists can help you to design the indoor playground system you need to provide fun and exciting physical therapy solutions to kids and families. We can work with your space, budget and specific patient needs to create a tailor-made space that is perfect for the families you serve.
Contact us today to find out more about our high-quality indoor playground equipment, and how we can help you to build physical therapy solutions that are fun and functional.