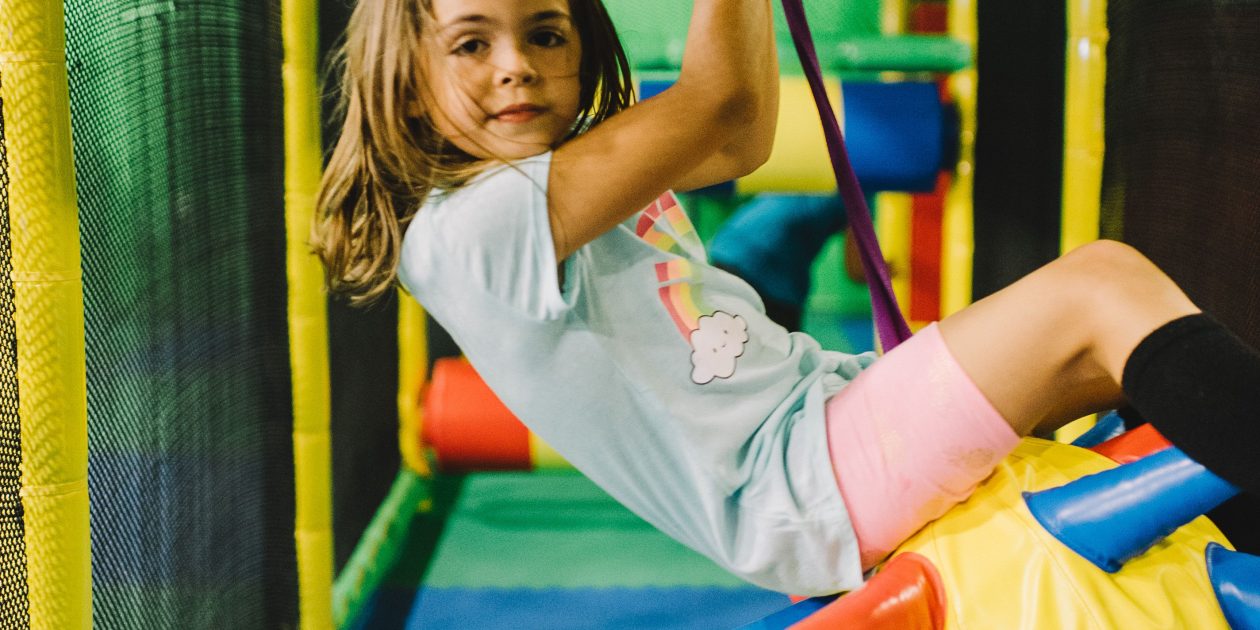 Why Playing Indoors Is Just as Important as Playing Outdoors
There's a reason your mother told you to go outside and get some fresh air! There are many benefits to playing outdoors, including better focus, increased vitamin D absorption and even vision benefits. The great outdoors also offers endless stimulation for curious minds, and every day brings a new and creative game.
When you were a child, outdoor play might have looked very different from what it does today. Maybe you went fishing for tadpoles in a pond, or perhaps you had a treehouse. Play comes in many forms, but it's all valuable for childhood development.
However, while there's no denying that playing outdoors is excellent for kids, don't discount indoor play benefits. Indoor play solves many of the problems and concerns that parents have about play and offers many benefits you just can't get outdoors. So you can get healthy kids without the risk of falling out of trees or muddy clothes from the pond!
Let's take a look at how indoor play helps child development and why you should include indoor play in your child's routine.
Lowers Risk
One of the biggest indoor play benefits is that it is a lower-risk activity than playing outdoors.
Of course, there is a lower risk of injury, which means you can have healthy kids that enjoy exercise without as many ways for them to get hurt. Well-designed indoor play structures are built to be as safe and kid-friendly as possible. With padding, safety rails, strategic hand holds and more; there's always something that's designed to prevent falls and other accidents.
Another indoor play benefit when it comes to risk is for kids who might have developmental delays or behavioral issues that might cause them to wander off or not listen to instructions. Because indoor play spaces are contained areas, parents can relax a little more because the chance that their child might wander off is a lot lower indoors.
There are also soft play areas in many indoor play spaces. These areas are particularly useful for children with mobility issues or younger toddlers and even babies because you're never too young to enjoy playing!
Improves Creative Play
While the opportunities for creative play might be better outdoors, the ability to focus on creative pursuits increases significantly indoors. Fewer distractions and more organized play zones combine to make it easier for children to stay on task.
Other indoor play benefits that relate to creative play include the possibility of including stories and other types of creative stimuli in children's indoor play.
Then there are the themes of indoor play spaces. Some of the equipment that can be installed in an indoor playground simply can't be installed outdoors. This means these play spaces can create a richer and more exciting play experience for kids.
Less Stranger Danger
If you're a parent, then you're constantly alert to the risks strangers pose to your children. Another of the indoor play benefits you might want to consider is that indoor play lowers the risk of stranger danger for your kids.
Indoor play spaces are self-contained, and usually, everyone who enters the space needs to pay a fee to be there. Playspace employees might be less willing to allow adults who are not accompanied by children into the area, and there are cameras and security measures throughout the space.
It's unfortunate that we have to look for ways to keep our kids safe and still give them the exercise healthy kids need, but indoor play does offer that balance.
Not Weather Dependent
Every once in a while, there is a perfect day where the sun is shining but not too hot, there's no wind, and it doesn't rain. However, most days, there's some kind of weather that makes playing outside more difficult or even unsafe.
One of the biggest indoor play benefits is that it's the same experience all year round.
Parents never have to worry that metal play structures are too hot or too cold. You never have to deal with wet clothes because your child went down the slide before you could dry it off. There's also no wind putting hair in their eyes, and if it happens to be smoky out, the air in an indoor playground is always safe and filtered.
Parent Friendly
When you're listing indoor play benefits, it's worth mentioning parents too. Of course, you probably want to spend some time in the indoor play area with your children, but there will probably come a point where you need to take a break, and your kids want to play with other children.
If or when that happens, indoor play spaces have parent-friendly features like comfortable seating and even Wi-Fi, so you can catch up with emails or social media while your child gets some more indoor play.
Amenities on Hand
While indoor play and child development are obviously a huge factor when considering indoor play benefits, there are also practical considerations.
When you play outdoors, there probably aren't too many amenities nearby.
Indoor play spaces, on the other hand, have plenty.
There's usually a concession stand where you can get snacks and drinks that healthy kids need when they're getting exercise. There are also washroom facilities and even changing stations, so you don't have to head home when someone needs the washroom!
There might even be an area of the play space that has video games or rides. So when your children need a break from running, jumping, sliding and climbing, there's an alternative available.
Indoor play spaces usually also have an area where you can store personal items like sweatshirts, backpacks and more. All of this makes indoor play spaces a little more convenient for families.
Fun for the Whole Family
One of the biggest problems many parents discover when they want to take their kids to play is that many playgrounds are age specific. So, for instance, a playground may be designed for kids aged 5 to 9. Others are designed specifically for toddlers and may not be interesting or even accessible for older children.
Another of the many indoor play benefits you might not have considered is that most indoor play spaces have various areas that are designed for different age groups. This means that there are play areas that are designed specifically for all of your kids, and everyone has somewhere to play because healthy kids need exercise at every stage!
Events and Parties
Another one of the indoor play benefits you might not have considered is that indoor play spaces are a year-round kid-friendly space – which makes them the perfect place to host kid-friendly events and parties.
Indoor play spaces are a safer option when you're going to have large groups of children present because they are more contained. There's also no chance your party or event will be ruined by bad weather.
Healthy Kids At Every Age
Indoor playgrounds are designed for children of all ages, from babies right up to pre-teens. That's important because every study that comes out today points to the benefits of exercise for healthy kids.
Exercise, such as your kids get at an indoor playground, helps keep bodies strong and minds active. Research has shown that physical play has benefits for children at every age – even the very young. This means that the safer, kid-friendly soft play spaces you find at indoor playgrounds are perfect for growing healthy kids from very early on.
No Insects and Allergens
We all love the idea of being outdoors, but the reality is often quite different from what we imagine.
Insects that interrupt a picnic. Bug bites while your kids are playing. Even pollen and other allergens can all make outdoor play a less than pleasant experience. Some kids might even be allergic to bees or grass, which might make outdoor play a scary proposition!
Another of the important indoor playground benefits is that there are no insects and fewer allergens, so it's safer even for kids who have sensitivities and allergies.
We Live for Indoor Playgrounds
You might have noticed that we're very excited about indoor play benefits. That's because we've been building safe, creative, interesting and fun indoor play spaces for many years.
Our play structures have been installed in hotels, family entertainment centers, shopping malls and even medical treatment facilities around the country. We're always on the lookout for new designs and ideas to create bigger, better and more exciting indoor play equipment.
We've seen first-hand how indoor play can help to grow healthy kids and how it allows kids the opportunity to get exercise the way they do next – while they're having fun!
So if you're looking for indoor play equipment for a facility you're working on, and you recognize the indoor play benefits this would give your community, we'd love to chat! Contact the team at Indoor Playgrounds International to discuss your ideas, get information or get a design and quote. We're always happy to help.