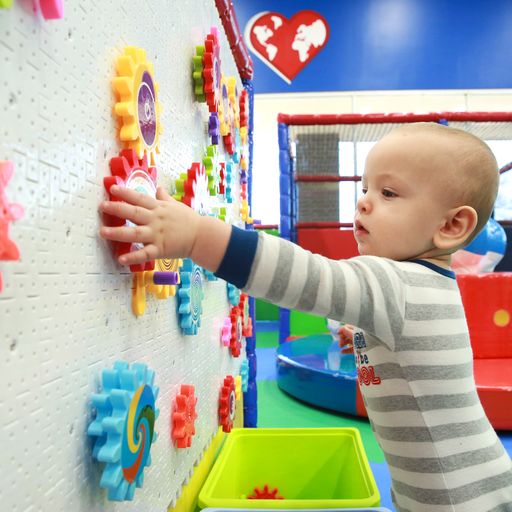 Benefits of an Indoor Playground as a Sensory Gym
As adults, when we think about play, we think it's all just about having fun. However, we now know, thanks to many years of study and research, that play is one of the most important learning tools children have.
When children play, they learn to interact with the world around them. They discover new ways to use their body and develop creativity and problem-solving skills.
For children, play is so much more than just having a good time. It's a critical part of their development.
However, we also now know that many more children than we ever imagined are neurodiverse. Whether they are on the autism spectrum or have some other type of difference or disability, many children experience the world in different ways. For them, a typical playground experience might not be the same.
We're all about ensuring that all children have the kind of play they need to learn and grow, so we've created sensory playground equipment that is tailor-made for children who process the world differently. Let's take a closer look at why you might want to consider adding some sensory gym equipment to your indoor play space, how these kinds of sensory room equipment benefit kids with differences processing sensory stimuli, and how you can welcome more families who need slightly different play experiences.
What Is a Sensory Gym?
A sensory gym, or a play space that includes sensory gym equipment, is a place that is specially designed to help children who don't experience the world in the same way to learn, grow and master important skills like communication and social interaction.
These special spaces include a variety of bright colors, special equipment that encourages interaction like ball pits and tunnels, and many other features and pieces of equipment that are designed to stimulate all the senses.
Extensive studies about children who are neurodiverse and who do struggle to learn the way other children do have shown, time and again, that this kind of play not only helps directly but can also enhance the effects of other kinds of treatment the child might be having.
In other words, spending time playing with sensory indoor playground equipment can help children to master more skills faster. It helps kids to learn in a safe, stimulating, but calm environment that is purpose-built to give them exciting and fun ways to learn essential skills.
Is a Sensory Indoor Playground Only for Special Needs Children?
Not at all. Sensory gym equipment can and does appeal to and engage children of all abilities. They are simply designed to be more accessible and appropriate for children who do have special needs.
This means that if parents who do have a child or children with special needs and without visit these spaces, all of their kids will find something fun and exciting to do – and that's the very best kind of inclusive play!
What Kind of Sensory Room Equipment Is There?
Many people are surprised to find out that there is a science of play, and at Indoor Playgrounds International, we put a lot of research and clever design into all our equipment. Whether it's using the most durable modern materials or constantly improving usability and safety, we spend a lot of time creating play spaces that are perfect for kids.
When it comes to sensory gym equipment, we take extra care to make sure all the equipment we supply meets all the very latest safety standards and aligns with the latest research about what kind of equipment is most beneficial to kids who might use a sensory indoor playground.
Some of these items include:
Special ball pits in interesting shapes and colors
Bright, colorful and soft play animals
Fun, themed punch bags
Colorful, animal-themed rockers
Interactive toys and puzzles
Soft climbing and sliding structures
Visual stimulation equipment, like distortion mirrors
Soft building blocks and foam-shaped toys
Matching games and more
Most of the sensory room equipment Indoor Playgrounds International manufactures is designed to be soft but durable. So kids and their parents can feel safe and comfortable climbing, interacting and engaging with the space without any risk of falls or injuries.
There is also sensory indoor playground equipment in our catalog that is designed for specific age groups, so you can create a room that is focused on younger kids only or add equipment that will appeal to older children too.
Why Should You Consider Adding Sensory Gym Equipment to Your Indoor Playground?
You might be wondering if it's worth adding sensory room equipment or even a dedicated sensory play space to your indoor playground. You might even think that there aren't many people that would find value in it. However, that's not correct.
The latest research suggests that as many as 30 to 40% of all people are neurodiverse. Many have never been diagnosed, but since we know so much more about children's development these days, more and more kids are being diagnosed earlier.
With numbers that high, there are probably many families in your area that have at least one neurodiverse child and who are probably always on the lookout for facilities and activities that cater to their needs.
Adding a sensory play space with sensory room equipment to your indoor play space or family entertainment center makes your business more inclusive and will make it more attractive to families who need these kinds of special facilities.
So instead of thinking of it as losing some of your floor space to sensory gym equipment, think of it as making your space inviting to more families.
Taking It To the Next Level
There are some kids with sensory processing challenges and neurodiverse conditions that are quite able to play and interact with many other children. Many neurodiverse children are not affected by loud noises or other kinds of stimulation.
However, there are also many who are.
If you really want to make your indoor playground a place that is welcoming to families like these, you could choose to create your sensory play space in a separate area or room or have special days one or two times a month where you limit the number of people who can visit the facility. This will allow kids who need a little less noise and activity to enjoy the space too and will make you the number one go-to choice for their families.